WATCH WHAT HAPPENS WITH
ANDY COHEN AND HIS DOG WACHA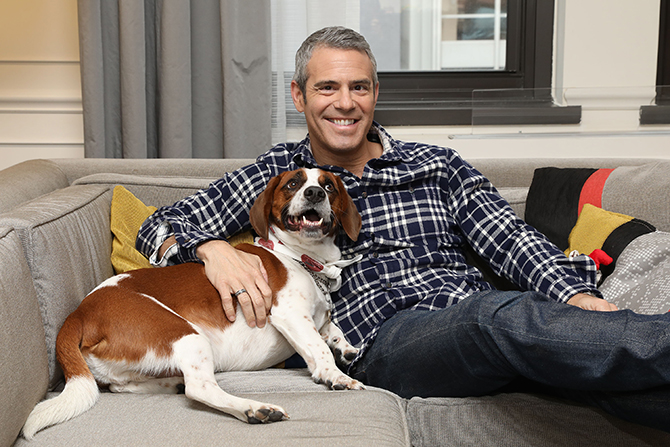 By Crystal C. Long
An Emmy winning television host and producer, Andy Cohen captivates late-night audiences with his talk show, "Watch What Happens Live with Andy Cohen." Missouri-born Cohen is also famous for being a dog lover, as witnessed by his beloved fur-baby, Wacha, a sweet and oh-so-gorgeous beagle-foxhound mix that often makes appearances on Andy's TV show. Wacha was adopted by the television star on October 18, 2013 from a West Virginia kill shelter (oh lucky boy!). Cohen tells us how he showers his furry friend with love and why he cares for Wacha more than anything!
WELCOMING WACHA
You can expect things to change when you welcome your new furry family member. In Cohen's case, Wacha completely changed his world − for the better of course. "Wacha has completely opened up my heart. Before I adopted him, I felt like I was becoming way too self-centered. Wacha's given me something to focus on and care for besides myself!" he lightheartedly told New York Lifestyles Magazine. Yes, having a dog can bring you so much joy and wonderful memories. There is nothing better than snuggling up to your furry pooch and getting lots of kisses and love – it's priceless. As Cohen states "Nothing beats seeing his cute face and wagging tail when I walk through the door after a long day. Seriously, he's so cute and SUCH a good cuddler. Those are probably my favorite moments with him – just cuddling up on the couch." These are the moments every dog owner lives for.
BIG LOVE
From being couch potatoes to doing extreme sports with our pups, we humans are inseparable from our pets. Often, it's the little things we do for our pets that show how much we love them. Even a celebrity like Cohen knows that sometimes, it's the tiniest things that show the biggest love (and I think Wacha would agree) "Wacha really likes going to the beach, so when the weather's nice we do that. Sometimes we'll go on longer walks than normal, or I'll give him an extra treat. I'll also let him give me extra kisses every now and then, too – because how can you resist that face?"
LUCKY DOG
Why not make March the month to show your pets how love renews your bond? And Cohen already has it planned, "It'll still be cold out, so we'll probably snuggle up on the couch and give a few extra cuddles to each other – have I mentioned how much I love cuddling with Wacha?" However, we must remember that not all pets are as lucky as Cohen's – organizations like Purina and their campaign #DogThanking are incredibly valuable, and thanks to dog-lovers like Cohen, we can give back and help, and that my friend, is what life's about!
---
Crystal is a lifestyle journalist residing in NYC. An avid animal lover, she has owned numerous pets throughout her life. Also a foodie, Crystal enjoys exploring different types of cuisines. Her writing has appeared in Time Out Hong Kong, Joonbug.com, Spirito diVino Asia, and Criticalmousse.com. Follow her on Twitter @Pistachioisme.