BETH STERN SAVING OUR FURRY FRIENDS
Her work with North Shore Animal League America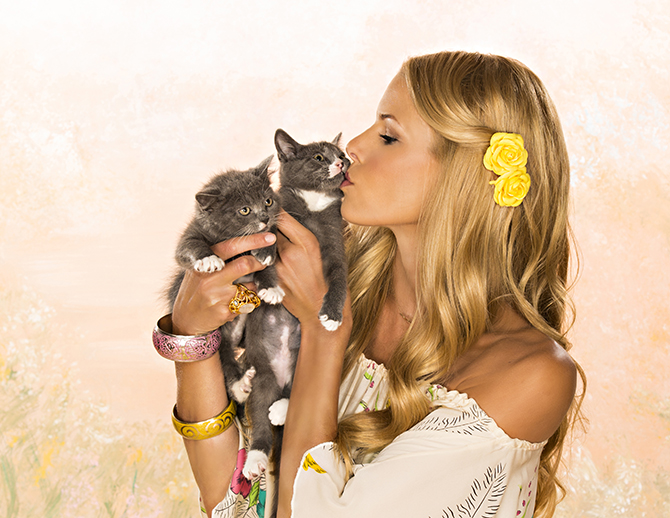 By Crystal C. Long and Lori Zelenko | Photos by Howard Stern
Beginning with the love of Bianca the Bulldog, Beth Stern has expanded her efforts to include rescue dogs, cats, puppies and kittens through her work with North Shore Animal League America. Together with her husband, Howard Stern (famed "shock jock"), they've saved the lives of more than 500 felines with Smudge being the latest foster to join the family.
HER FELINE FAMILY
You can't talk about celebrities and animal advocacy without talking about Beth Stern. Not only is she a TV personality, and New York Times Best Selling author, she is also an animal rights activist, having rescued over 500 felines with her husband, radio personality Howard Stern.
The Pittsburgh native's love for animals started from a young age, "I grew up with dogs and cats and guinea pigs and chickens. My entire family loves animals. It's in my blood. We treat our pets like they are members of the family." she told New York Lifestyle Magazine. Stern's affection for animals is endless, but she certainly has a special spot in her heart for cats – yes folks, she is a cat lady. Just the most elegant and graceful cat lady ever. It all started when she adopted the celebrity couple's first litter just before they were about to be euthanized, and they never looked back − the two currently care for numerous cats in their home: five permanent residents at Casa de Stern and their adorable fosters.
ANIMAL ADVOCATE
It is this passion that made Stern the perfect spokeswoman for North Shore Animal League America (NSALA), the world's largest no-kill animal rescue and adoption organization. Being an active volunteer, a caring foster parent, and their national spokesperson for more than a decade, Stern has been recognized largely by the public for her involvement and advocacy for animals. She remembers the moment she got involved with this important organization vividly, "I was asked by my modelling agency if I would donate my time by walking in a runway show wearing couture gowns and carrying adoptable puppies for North Shore Animal League America." she shares with heartfelt excitement. "I remember that day like it was yesterday. I didn't leave the runway until every puppy was adopted. I then accepted an invitation to visit their campus and I started volunteering immediately."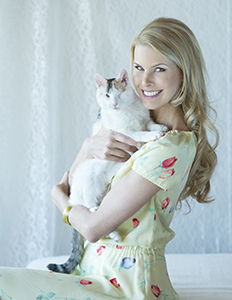 And when we say active volunteer, we really do mean ACTIVE – in 2016 alone, Stern coordinated the adoption of 150 cats and kittens. She reviews each and every adoptionrequest and goes through the entire process, including meeting the adopters and delivering the cats to their new forever homes. As Stern tells us "It's truly my purpose in life. It fulfills me. I've been fostering cats and kittens for almost four years now and have nurtured and found homes for over 500. Our foster room is filled with seven kittens now and I always have at least one adult foster and special needs ones as well."
BIANCA'S FURRY FRIENDS
However, it wasn't until the death of the Stern's English bulldog Bianca in 2012 that she stepped up her efforts in animal rescue. "When Bianca passed, I knew I had the time to dedicate to North Shore Animal League America. Bianca was a fulltime job. She had so many issues and demanded all my time. I've been able to foster and raise funds to plan a 15,000 sq. ft. expansion called Bianca's Furry Friends. It is an expansion onto NSALA's existing shelter where there will be an entire floor dedicated to a cage-free environment for the felines and thus opening the entire downstairs for adult dogs and puppy mill rescues. This rewarding project cannot be better for our feline friends (and our canine friends too!). The key thing is this: more lives will be saved, and isn't this what every animal-lover in the world wants?'
With so many animals-in-need, the effort to rescue them all is not easy, and even Stern has her ups and downs when it comes to rescuing. However, once you see those cute little eyes shining with happiness from being rescued – it makes it all worth it. "It's very hard saying goodbye to my fosters once they are ready for their forever homes. But, I immediately go to NSALA and to find more who need me. Adopting from a shelter saves two lives. The one you are bringing home and you are opening space for another who is in need." Stern determinedly states.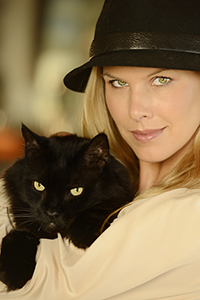 SHARING THE LOVE
Her passionate dedication to her work with North Shore Animal League America carries over into her personal life. She and Howard share the same love for these four-legged cuties and tells us her favorite moments with them. "Mornings are my favorite time of day with my husband and our resident cats. Howard loves to groom our cats and it's become a part of our morning routine. The cats love the attention. We love being with them." However, the couple's first pet, Bianca, the bulldog, will forever hold a special place in their hearts. "Everything about Bianca made me smile. She was the greatest. I miss that fat bulldog!! She was our child."
Showered with affection constantly, the celebrity couple's cats are the luckiest felines! Stern tells us how she shows their cats they adore them, "Overfeeding! Ha! It's true, though. My resident cats all could lose a few! We love taking care of them. They are our children."
NEW BEGINNINGS
Stern's efforts with North Shore Animal League America could not be more instrumental in saving the lives of animals in need. "We are always accepting donations. We are building a feline wellness center and will need funds to keep it going. There is a link on www.animalleague.org to donate." She lastly declares, "Always visit a local shelter when you are thinking of expanding your furry family. There are so many incredible animals just waiting to be loved. We get so many cats and dogs whose owners have passed or have moved away. They are perfect pets, waiting for a new beginning. Never overlook the adults. They are the best!!"
From all of us animal lovers in New York and beyond: thank you Beth Stern for all your contributions!